Today I will be covering another attempt at making scenery appropriate for 10mm scale miniature games. This time it was my first attempt at creating my own hills. If you want to make some the same way, you'll need some cardboard, maybe some styrofoam, wax paper, glue, flock, and the key element: plaster cloth. I found this at Hobby Lobby. It comes in a roll of this loose cloth with plaster on it, and you just wet it and spread it out how you want, then it dries hard. Very convenient.
The first thing I did was to cut a base out of very thin card. Here is a picture of the base for my first hill.
Then in the middle of the base, I glued a large piece of styrofoam to form the bulk of the hill.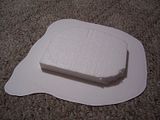 I found this to cause a bit too steep and uneven of an incline. For future hills, I built up the bulk using many layers of thick cardboard. Each layer was cut in a similar shape as the one before, but about a half inch to an inch smaller all around. This seemed to work better, but made the hills much less steep.
With the large piece of styrofoam in place, I built up the sides and top with newspaper and coardboard to make the hill more rounded.
For the hills after this, I taped or glued strips of wax paper to the stepped cardboard layers to round out the hill shapes. This gave a much more rounded hill. Don't try using newspaper like I did. After you put the wet plaster cloth on the hill, the paper gets wet and collapses. This resulted in a lumpy rather than smooth curvature to the hill.
So once that was done, I applied the plaster cloth. I used
Woodland Scenics Plaster Cloth
. You just cut it into strips, dip a strip into water, lay it on the hill, and smooth it out with your fingers. Keep doing this in strips until the hill is covered, then let it dry overnight. I'd usually put on a second layer the following day just to make the hill sturdier. Here are the results on the first hill.
Another thing to watch for is that while the plaster was drying, it tended to make the thin cardboard base I was using warp a little. So I made sure to put some heavy things all around the perimeter of the hill to hold the base down while it dried and keep it flat. If you can find something more sturdy or waterproof to use for the base that is thin and you can still cut it out in rounded shapes, that would probably work much better. I, however, do not know of anything that fits that description.
Once the plaster cloth was completely dry, I spray painted the entire hill green.
I then glued several rocks around the hill, using them to cover up or distract from places where the shape of the hill looked unnatural. You can see how I created the rocks
here
. Below are some pictures of the hill with rocks attached.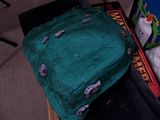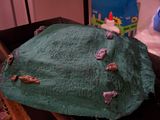 The next step was flocking the hill. I used some watered down Elmers/PVA glue, which I brushed all over the hill before sprinkling
Woodland Scenics Green Turf
over it. This method did not work very well, and there were large bare patches all over that I had to re-flock, which was very difficult since applying more glue would wash away any flock that was already in that area. Because of this, I had to re-flock the hills several times to get decent coverage. Using some kind of spray glue might work better, but then there is no way to keep it from getting on the rocks. Perhaps flocking with spray glue before putting on the rocks would be best. If you must brush on Elmers glue, water it down as little as possible, just enough to make it brushable. The less watery it is, the better it will hold the flock.
Below are some pictures of the first attempt at flocking the hill. I also sprinkled some ballast on before flocking, (I used
Woodland Scenics Medium Ballast
) to make the hill look a little rocky.
After a few touch-ups on the flock job, I added some dark green clump folliage all around the hill to look like bushes. Again, I used the
Woodland Scenics Medium Green Clump Foliage
. This is also another good way to cover up any odd looking spots on the hill, or places that didn't get flocked well. I covered up a lot of the bald areas with some clump foliage, which was much easier than trying to re-flock them.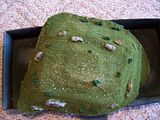 At this point, I sprayed some matte varnish over the entire hill to hopefully keep the flock, ballast, and clump foliage from coming off over time. And that's all there is to it: one custom made hill. Hopefully this has given you some ideas or inspiration, and you can learn from some of my mistakes. And if you make some of your own, definitely let me know what other things you learn and tips you have for others to benefit from.
Finally, here are some pictures of the other hills I created in a similar fashion, and a couple of rocky terrain pieces I also made.