I've been trying to figure out a simple but effective paint scheme for my Renegade Imperial Guard army. You can see my first attempt in the recent post
Renegade Imperial Guard Paint Test
.
I've made a few changes to my scheme, and here are some pictures of the results.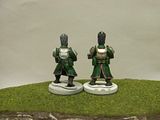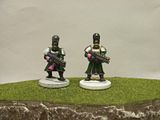 The figure on the left was the original one, which I made some changes to. I repainted the armor silver and the cuffs and trim pink, since I thought the black wash made them too dark. I also drybrushed the hat, but I think it started out too light. I also painted the stripes on the shoulder armor white.
The figure on the right, I used mostly the same base colors but washed with Devlan Mud instead of Black wash, except for the gun and gloves which I still used black wash on. The hat I painted black and used a dark grey drybrush, but now I'm thinking I should use a lighter grey drybrush. I also tried out a purple for the stripe on the shoulder pad.
Overall, I like the figure on the right better, as it is not as dark in general. I'm not sure I like the brown tint on the armor, but I'm not sure how to get definition in the armor without making it too dark or adding too many steps. I've already added a second color of wash and a drybrush step. Also, I'm not sure which color of shoulder stripe I like.
So, let me know what you think. What color should I make the shoulder stripe? How can I get a better look to the armor without it being too dark? Any other suggestions?